Anything But Ordinary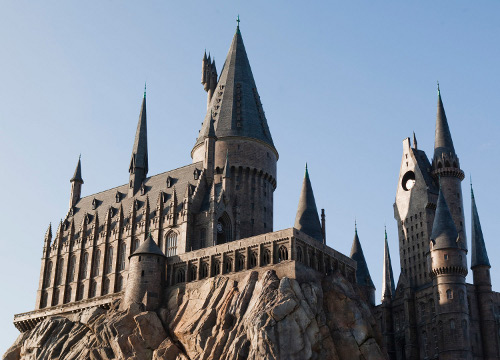 Prologue;
Spoiler:

Ordinary. That is what I used to describe myself. Before I found out my true

identity. Man, was I wrong.

I was laying on my bed, reading a book like I normally would before I went to

sleep. My mom, Alice, knocked on my door and came in. "Emerald, I have a letter

that was addressed to you." She placed it next to me on my bed. I put a bookmark

in my Harry Potter book that I was re-reading for the gazillionth time. I picked

up the fancy looking letter and then carefully opened it. I unfolded the letter

and then started reading it silently.

Dear Esmerelda Blair Hallows,

We would like to congradulate you on being accepted to Salem School for Warlocks
and Witches. The Salem Express will arrive to your nearest railroad station on August
Thirty-first at noon. Board onto Platform 4 1/2. Your list of required materials are
included with this letter. We will be expecting you.

Headmistress Clarissa E. Jenkins

"Congradulations, sweetie." My mom said to me and kissed me on the forehead.

"Wait, Salem School for Warlocks and Witches? I am a witch?" I said, dumbfounded.

"Yes you are Emerald. Our whole family is. Your father, your grandparents, your aunts and

uncles that are bloodrelated, our whole family is." My mom explained.

"Why didn't I know about this?" I questioned.

"Because we couldn't tell you until you were accepted into Salem School. Our whole family

also went there."

"Oh wow. Well I guess I got to start packing then. If school starts on the 31st, I only

have three days to pack." I said, getting out of my bed. "What am I supposed to do about

the school I go to at the moment?"

"Tomorrow is your last day at public school. You have to clean out your locker and give

back books tomorrow. And I will take you shopping tomorrow after school for your new

materials that you need."

I sighed and nodded. I was going to miss public high school, but they don't teach any

courses in witchcraft. I looked at the list of school supplies and it read;

[*]

-Uniform - Black pleated skirt, white button down, black blazer, tie,
black knee high socks, black Mary Janes
-Pewter standard size 3 cauldron
-Wand
-Books*
-Broomstick
-Regular school supplies you would use in a Muggle school
-Regular clothes
-Personal items/toiletries
-Owl, cat, or toad
-Trunk
-Laptop
-Parchment
-Quills and ink

*Refer to books list.

"Hey mom, do you have a trunk?" I shouted out my bedroom door.

"Oh yes I do. Let me get it from the basement." She yelled back. Minutes later she returned

with a big black trunk with my initials, EBH, painted on the front. "This was a gift from

my mom for when you were accepted into Salem School."

"I will make sure to tell her thanks. Can I bring like a hairstraightener and all that jazz?

And my cellphone or iPod?" I asked before my mom left.

"Yes you can bring hair stuff, and I am sure you can bring your cellphone and iPod. I think

the only exception is that they must stay in your dorm during the academic day." She replied.

I nodded and she left. This was going to take a long time to pack everything.

I started putting the clothes I needed to bring to Salem School. I turned around to grab some

more clothes, and when I looked back into the trunk, the clothes I first put in there were

farther down than the trunk went. I put the other clothes in there when I found an instruction

manual attached to the lid of the trunk. I scanned it and it said that it has a never ending

bottom so I could put as much stuff as I need in there. I sighed and continued packing what I

could.

AN; The main character is a 15 year old girl named Esmerelda but goes by Emerald
as her nickname. Salem School is in Salem, Mass. This is kinda like Harry Potter, but not
exactly. It is going to have a different plot, but I will probably end up using some HP lingo.
And the picture is of the Hogwarts Castle at Wizarding World of HP. (:

This is what Emerald looks like.

Chapter Fifteen;
After waking up the next morning, my mom told me that the staff had the night off tonight so
I would be home all alone. That is what they thought. "Mom, would it be okay if Demitri came
over tonight? I don't want to be completely alone tonight with that vampire out." I pleaded to
my mom.
"Fine, but like before, no fooling around." My mom said. I smiled and hugged her. Then I went
downstairs to get food. I entered the kitchen and rummaged through the pantry for food. I
decided just to have those breadsticks that you dunk in the cheese. Seriously, I could eat
three packages of those in like 20 minutes. My parents were going to go to a party the whole
night and Sammy was going to Michael's. I went up to my room and called Demitri.
"Hello?" He answered.
"Hi baby." I said.
"Hey Em. What's up?" Demitri said.
"Well, first off, I wanted to call you to say happy 16th birthday. Second, I love you so much.
And third, you can come over for sure tonight." I said seductively.
"Why thank you darling. I love you so much too. And for sure?" Demitri said.
"Mhm, my parents are going to be gone, Sammy is going to be at Michael's, and the staff has
the night off." I giggled.
"I am so glad to hear that. Looks like we are going to have a good night then." Demitri laughed.
I laughed too. "Well, I have to go. My parents are taking me to get my license. What time do
you want me over?" Demitri said.
"Come over around six. I will see you then. Bye Demitri." I said.
"Alright. Bye Emerald." Demitri said and hung up. I put my phone in the pocket of my sweatshirt.
I went to my desk, grabbed a piece of notebook paper, and made a to-do list for today. Sammy was
in the shower while I wrote down my list which consisted of showering, shaving, moisturizing,
and stuff like that. I finished my list and decided to stretch myself out. I sat on my floor
and went into a straddle and stretched. I did some more stretches when Sammy came out of my
bathroom, wrapped in her sky blue fluffy robe and matching slippers with her hair wrapped in
a towel.
"Stretching out for Demitri?" Sammy winked.
"Oh shut up. I need to stretch anyways." I laughed. Sammy laughed and picked out some clothes
from her trunk. "What time are you coming back tonight?" I asked.
"Probably not until real late. Michael is taking me to a concert and afterwards back to his
house." Sammy said.
"What concert?" I stood up and leaned down to touch my toes.
"I have no idea. It is a surprise." Sammy shrugged and chose a pair of black skinny jeans, a
dark gray tank top, a dark red bomber jacket, and black leather boots. She went back into the
bathroom to change and do her hair. I finished stretching out and decided to go on Facebook.
I picked up my Mac from my desk and took it over to my couch. I flipped on the TV and turned on
my computer. I waited for it to load up and when it did, I logged onto Facebook. I saw that I
had so many notifications again, which were from my birthday. I didn't bother going through them.
Then someone chatted me. It was from Cassidy.
Cassidy: Hey Em! It is Cass and Jen. How are you? We miss you so much and school isn't the same
without you!
Me: Hey Cass and Jen! I am actually really good. I miss you guys too. How are you guys?
Cassidy: We are good. How are your new school and boyfriend?
Me: I love my new school. I made the varsity poms team and the highest choir. And my boyfriend
is good.
Cassidy: That is good. Awesome! We can't wait to meet him. (: Oh, we saw that you had a party
for your birthday and didn't invite us? What was that all about?
Me: Haha. Oh, well, it was kind of last minute. Sorry. And there is another reason why I couldn't
invite you guys but I can't tell you.
Cassidy: Whatever. We have to go. Bye.
Cassidy logged off. I shrugged and went to my photos to make sure they were all uploaded. I made
one of the pictures with Demitri in my long dress my profile picture. We looked like movie
stars. I still couldn't believe I was lucky enough to be with Demitri. I looked at the clock and
it was already three in the afternoon. Sammy was finished getting ready and was zipping up her boots.
"I am gonna go. Have fun tonight but be safe." Sammy laughed and hugged me goodbye.
"Bye. Oh we will. Have fun at the concert. And text or call me when you are on your way home."
I said and hugged her back. She smiled and left my room. I decided to get in the shower. I got
into the shower and the hot water hit my back, giving me a mini massage. I spent a lot of time
in the shower making sure I did not miss an inch shaving. I got out of the shower and wrapped
myself in my pink fluffy robe and my hair in a towel. I decided to not put on my outfit just
yet, so I threw on some shorts and a t-shirt. I blow dried my hair straight and ran my flat
iron though my hair to make sure it was pin straight. Then I did my makeup and put vanilla
scented lotion all over my body. The clock read 5:45. I heard my parents leave a while ago. I
texted Demitri.
Me: When you get here, just come straight up to my room. The front door is unlocked, but lock
it when you come in. (;
Demitri: Will do. I will see you in a few. (;
I took off my t-shirt and shorts and slipped into my emerald green colored lace push-up bra and
matching thong. I changed my mind and put on a pair of black booty shorts and black Juicy
tracksuit jacket on over my lingerie instead of a robe. I sprayed some vanilla perfume on my
body and looked in the mirror. I looked good. I unzipped my jacket a little so that my green
bra peaked through. I rolled my shorts over a few times so that they sat right on the edge of
my panties. My flat abs had a good three inches showing. I put a swipe of chapstick on my lips
and I was ready. I heard the front door open and close. I sat down on my couch in a somewhat
seductive manner. My bedroom door opened and Demitri walked in, wearing jeans, a dark green
v-neck, and gray zip up hoodie.
"Hi baby." Demitri said and smiled.
"Hi hon. Happy birthday." I got up and walked over to him. Demitri put his hands around my waist
and pulled me close to him. I stood on my tiptoes and kissed him hard on the lips.
"Thank you. So what are the plans for tonight?" Demitri asked after the kiss.
"Well, it is your birthday, so whatever you want to do." I raised my eyebrows.
Demitri raised his eyebrows. "Whatever I want to do?" I nodded. He picked me up and carried me
up the spiral staircases and gently placed me on my bed. "Are you sure you want to do this?"
"If I didn't, I would have told you by now." I stated.
"Alright. Let me promise you, I love you so much and I never want to hurt you. You mean the
world to me." Demitri said and we locked eye contact.
"I love you too. And you mean the world and more to me." I said.
Demitri took off his hoodie and tossed it on the floor. I walked over to him and took off his
shirt. His tanned and ripped abs were to die for. He slowly unzipped my Juicy hoodie and took
it off. I sauntered my way back to my bed and sat down in the middle of it. Demitri stared at
me for a minute and got onto my bed. We started making out and getting frisky. Demitri took off
his jeans and threw them to the floor. He kissed his way down my neck to my collarbone and my
chest and stomach. His lips stopped right where my skin and shorts met. He looked up at me,
asking with his eyes if he can take my shorts off. I nodded. He skillfully and carefully slid
my shorts off. He was pleased with the lingerie I chose. His index finger trailed down my hips
and to the inside of my thigh. "Are you ready for this?" He asked. Then the doorbell rang.
---
"Seriously?" I groaned. "I better go get that." I said and wiggled my way out of Demitri's grip.
I quickly put my shorts and hoodie on and ran downstairs. I opened the door. The guy standing
there was holding a pizza.
"Here is your pizza." The delivery guy said. He had an eerie voice.
"I didn't order a pizza…" I trailed off.
I looked into his eyes and they were a bright red. "Can I come in?" He asked. I started walking
backwards. I didn't have my wand on me. Shit, I thought. "Miss, can I come in?" He asked again,
giving me a toothy smile. Just then, Demitri came downstairs and saw me backing away from the
door.
"Em, baby, you okay?" Demitri asked.
I shook my head no. "Him," I said under my breath. I could tell that the delivery guy was
getting angry. His eyes kept getting redder and redder. His mouth curled in to a snarl.
"LET ME IN." Delivery guy shouted and threw the pizza to the ground. Demitri went over to the
intercom and called for the security guards. The delivery guy-slash-vampire snarled and fled.
I stared wide eye at the door where he just left. I backed up so far that I hit the edge of the
staircase and fell backwards.
Demitri rushed over to me. "Emerald, honey, are you okay?" I broke down crying. Demitri held me
in his arms and stroke my hair. Then the security guards arrived to the door.
"Miss Hallows and Mr. Sterling, are you two alright?" Vlad, one of the security guards, asked.
"The delivery guy was not the actual delivery guy. He was a vampire who is out to get Emerald
from the looks of it." Demitri stated.
"Oh God. The King and Queen need to be informed of this right away." Christof, the other security
guard, declared. He whipped out his cell phone and dialed my father's cell phone number.
"Hello King, I am truly sorry to interrupt your evening, but there was a mishap at the castle.
A pizza delivery guy came to the house, so I figured the kids ordered a pizza, and instead of
the normal delivery guy showing up, a vampire did. From the looks of it, we think the vampire
is out to get Princess. You will be back in a half hour? Okay. Goodbye." Christof hung up. I
was still crying with Demitri holding me.
"I am going to take her upstairs." Demitri said to the guards and picked me up in his arms.
He carried me to my room and placed me on my couch. He sat down next to me as I kept crying.
"Baby, you are fine. Please stop crying." I stifled my tears. Demitri kissed me lightly on the
forehead. "You should go and change into something else. You parents are going to be here soon."
I nodded and stood up, then almost fell over because I was so lightheaded. Demitri caught me.
He steadied my balance and then I walked into my closet. I put on some sweats and a giant
sweatshirt on. I threw my hair into a bun and walked back out to Demitri. Demitri had his head
in his hands. I sat down next to him. "Demitri?" Demitri took his head out of his hands. He
looked miserable. "Demitri, I'm sorry for breaking down." I said to him and rubbed his back.
"Emerald, you had all the right to breakdown. I just hated seeing you cry like that. It breaks
my heart seeing you so scared." Demitri said. I frowned and hugged him.
"I'm sorry for ruining your birthday." I said quietly.
"You did not ruin my birthday. Please don't think that. Just being with you made this the best
birthday ever." Demitri said.
"But I shouldn't have answered the door." I contradicted.
"Emerald, please don't think that you opening the door was you fault. It was not at all." Said
Demitri.
"But for all we know, he is still on the grounds." I shivered. I had that bad feeling that he
was.
"Please don't think about that. Baby, I won't leave your side. You have nothing to fear."
Demitri caressed my face.
"But it is true." I stammered and started crying again. Demitri pulled me over to him. I felt
the tears from Demitri's eyes fall on my head. I looked up at him and wiped his tears away with
my thumbs. We sat there in silence until my parents got home and came into my room.
"Emerald, Demitri, are you guys okay?" My mother rushed over to me in her way to high heels.
Demitri and I both shrugged. "What happened?" She asked. I explained to her what happened when
I opened the door and saw the vampire standing there up until just now. "Oh gosh. We haven't had
a vampire here in ages, and I literally mean ages. Joseph, what should we do?" My mother said to
my father.
"We need to alert the town." Joseph simply stated. Alice nodded. "I will go to my office and
send out an alert everywhere in Hallows. Goodnight kids." Joseph turned and walked out of my room.
"Demitri, I don't want you leaving here and driving yourself home in the dark while this monster
is out. You are welcome to stay here for the night." Alice said to Demitri. He nodded in
acceptance. "Goodnight you two." My mother said and kissed me on the forehead and left my room.
I yawned from being so tired.
"Do you want to go to bed?" Demitri asked me. I nodded and stood up. I walked up the spiral
staircase to my bed and plopped down. Demitri sat down next to me. I shimmied under my covers
and pulled them up to my chin. Demitri got under the covers and I curled up next to him.
"I love you. And happy birthday." I murmured.
"I love you too. And thank you. Please get some sleep now. You need it." Demitri said and kissed
me goodnight. Then I instantly fell asleep.
---
For the rest of break, I kept myself in the house. I didn't leave unless I had too. Good thing
I had Sammy and/or Demitri to keep my company. My father sent an alert to the town that a vampire
was on the loose. Let's just say that there were a lot of freak outs. I was paranoid beyond
belief. I carried my wand seriously everywhere I went, even to the bathroom.
---
It was the last day before we had to go back to Salem School for the rest of the semester. I
was freaking out. I had a strange feeling that things at Salem are going to become bad, very
bad. My trunk was all packed and ready to go. I had to be at the train station at six the next
morning since we still had classes that day, which is such a sick joke. I sat in my room and
read Harry Potter and the Deathly Hallows for the gazillionth time. Then my father came into
my room. "Hi dad," I said quietly, not taking my eyes off the book.
"Hi Emerald. How are you doing?" He said and sat on the couch next to me.
"Still shook up. But there is nothing I can do about it." I sighed.
"Well, I had a meeting with the President today, for your information, he does know about us
and vampires and other mystical creatures. And he told me that there have been several odd
deaths in Washington DC before the attacks started in Salem. He does think it is vampires
though causing the attacks. For all we know, they are multiplying and killing. And the best
part is, their favorite kind of blood is witch and warlock blood. No idea why, but it is."
Joseph explained.
My eyes widened. "Are you serious? They love our blood? Great. No wonder that one vampire is
after me. For all I know, I probably have the best smelling and tasting blood there is."
"Honey, you have nothing to worry about. Only witches and warlocks can get into Salem School.
Well, and humans if they know their child is a witch or warlock. Just focus on the rest of you
school work and poms. I just wanted to inform you of that. You should get some rest now. You
have school tomorrow." My dad got up, kissed me on the top of my head, and then left my room.
I put a bookmark in my book and put it in my tote bag. I plugged my phone in it's charger and
went to bed.
---
"Emerald, are you sure you are okay? You haven't been yourself since the incident." Demitri said
as we got into the train compartment.
"I am fine." I snapped and sat down. We were already in uniform and I had my wand tucked in my
sock for safe keeping. "I'm sorry for being so snappy lately. I am just scared to go back to
school and leaving my parents here to deal with a vampire."
"I don't blame you one bit for being scared. I am scared too. But nothing can get you at school."
Demitri squeezed my hand. Then Sammy and Michael came into our compartment. They were holding
hands since the Michael asked Sammy to be his girlfriend after the concert a few days ago.
"Man, I can't believe we are going back to school already. It feels like your party was
yesterday, Em." Sammy said. I nodded and felt the train start to move. I looked at the window
and smiled at my parents whom were waving to me. I gave them a small wave and focused my
attention back on my two friends and my boyfriend. I spent the train ride to Salem keeping to
myself. I just felt like something horrible was bound to happen. And I was right.
---
After dinner, we were all in our dorms getting ready for bed and finishing up homework. Demitri
was watching some sport on TV with his friends while Sammy and I sat on the other side of the
room, writing in my diary and Sammy reading a book.
Dear Diary,
I feel like something bad is going to happen tonight. I can just feel it creeping through my
veins. I don't know what is going to happen, but no one believes me. For the past week after
the incident, I feel like I am drifting from Demitri and Sammy. Maybe it is just because of my
mood being so down and paranoid, but who knows. I just don't know what to do. It is killing me
inside.
I closed my diary and locked it. "I am going to go to bed." I said to Sammy and stood up. She
nodded and kept reading her book. I walked over to Demitri. "I am going to bed. Night." I said
and kissed him on the cheek.
"Night babe. I love you." Demitri said.
"I love you too." I said quietly. Then I went up to my room. I sat in my bed for a while, just
trying to clear my mind of everything. I guess I eventually fell asleep when I woke up to the
fire alarm going off. I sat up and looked around. The girls in my dorm were freaking out and
grabbing coats and shoes since we had to evacuate the building. I quickly grabbed my phone,
wand, and diary. I slipped on a coat and slippers and hurried out of the room along with
everyone else. The common room was packed of kids trying to get out of the door. It took a
while, but everyone was then out of the building and outside. My peers had there wands lit up
if they had it. Then I got that bad feeling creep over me like it did at the drive-in. I quickly
found Sammy with Michael. "Sammy, I need you to hold my diary. Don't let go of it. Please." I
said and handed it to her. I stuffed my phone in my sports bar and started walking away from them.
"Wait!" Sammy called after me. "Where are you going?"
"To figure out what just happened." I said and walked off. I crept my way away from everyone and
walked around the grounds of the school. With every step I took closer to the forest that lined
the west part of the grounds, I couldn't shake that feeling off. The edge of the forest was
only about ten feet away from me when I saw a pair of gleaming red eyes staring at me.
Chapter 16;
A male slowly walked out of the forest, up to the edge. It was the vampire. "My, my, look what
we have here. It is the princess." He mocked.
"What do you want?" I slowly and assertively said.
"You, of course. And your blood." He laughed a menacing laugh.
"Can I first know your name?" I asked.
"Why my name is Oliver." Oliver the vampire said.
"And why do you want me of all people, Oliver?" I questioned him.
"You are the princess and such a gem. How could I not want you? I have been longing for the
day when I first saw you in the alley that one night." Oliver raised his eyebrows and smirked.
"Oh, okay, that makes total sense." I said sarcastically. "It makes no sense why you want me."
Oliver cackled. "Do you know how valuable your blood is? Or what about the kinds of powers your
blood will give me. I will be the greatest vampire of all times."
I literally laughed out loud. "That is your goal? To be the greatest vampire of all times. Sorry
to say, this isn't Harry Potter and you are not Voldemort."
"I know that." Oliver snapped and stepped closer towards me. That is when I got a better look
at Oliver. He was somewhat decent looking. He was only a few inches taller than me, really pale,
red eyes, and messy light brown hair. "Why aren't you afraid of me?" He hissed.
"Because I have no reason to fear you. I got nothing to lose." I stated.
"What about your boyfriend Demitri? Or you best friend Sammy? Or even your own family? Aren't
you afraid of losing them?" Oliver stepped closer and closer to me.
"I am afraid of losing them, but if it is fate, it is fate." I said. Ironically, I heard Demitri
and Sammy's voices shouting out my name.
"How do you think they would feel if they found you here dead and drained of blood?" Oliver
smirked and turned to listen from where the sounds of their voices were coming from.
I was grateful since he was distracted and yelled "Petrificus totalus" and flicked my wand at
Oliver. He was as straight as a board and fell to the ground. I guess Sammy and Demitri saw
the jet of light from my wand that they came running to me. I was staring at Oliver, whom was
laying on the ground, immobile.
"Emerald! What the hell happened?" Demitri said to me.
"I found him. And I couldn't let him get away. Or kill me." I said with no expression.
"I will get Headmistress." Sammy said and ran off back towards the school. Oliver's eyes studied
me and then Demitri and then back to me. Demitri and I kept our wands pointed at Oliver until
Headmistress Jenkins and other staff members came hurrying to us.
"Miss Hallows, are you okay?" Headmistress Jenkins asked me. I nodded. "What happened?" She said.
"I figured something bad would happen tonight, and I was right. Only I got to him before he
could get to me." I said nonchalantly.
Sneverus Snape, head of Archer house, bent down to look more closely at Oliver. "Is this a
vampire?"
"Yes it is." I said. Some of the staff gasped.
"We haven't had vampires in Salem or around Salem in ages." Snape said to himself.
"But how did he get into the grounds?" Professor McConnell said.
"Someone here must have let him in." I stated.
---
I was sent to the infirmary for no apparent reason that I could see. I was perfectly fine,
but everyone urged me to go. I saw cross legged on the bed, reading a magazine. I didn't even
hear anyone come in, when I felt Demitri sit on the edge of my bed. I looked up and gave him
a small smile. "How are you doing?" He asked.
"I am fine. I don't know why I am here. I am obviously not hurt or anything. I am actually
really content." I explained.
"That is good. I think they just want to make sure you are okay. And I want you to be okay
too." Demitri picked up my hand and played with the pink and diamond ring he gave me for my
birthday.
I looked down at my hand. "I know you do. And I love you for wanting me to be okay." I said
and smiled. I leaned over and kissed him lightly on the cheek.
"I love you too." Demitri said when the main nurse, Madam Winfry, came in.
She said in her kind voice, "Mr. Sterling, visiting hours have been over."
Demitri nodded and stood up. "Goodnight, Em. I will see you tomorrow."
"Goodnight," I said and Demitri left. Madam Winfry smiled and turned off the lights in my
section. I shimmied under the covers and stared up at the ceiling. I could not fall asleep. I
looked at the clock on the opposite wall and it was one in the morning. I was probably going
to miss my first two classes because the administrators and teachers would want to make sure I
was okay. I thought that was a little weird, but I was going with the flow.
---
The next morning I was woken by Headmistress Jenkins. "Are you okay, Esmerelda?"
"I am fine. I really don't know why I had to stay in here." I shrugged.
"Well, you are free to go then if you feel okay. But come back if you aren't feeling well."
Headmistress said. I stood up and left the infirmary. Everyone was in class while I walked
through the school, up to my dorm room to change since I was still in my pajamas. Twenty
minutes later, I was dressed with my hair and makeup done also. I swung my bag over my shoulder
and went back downstairs to go to class. When I got to herbology, the room was silent when I
walked in. The station next to Demitri was open and I made my way over to the seat and sat down.
Everyone was silent and were staring at me. I was sure some people were either scared of me or
in awe of what I did. I took out my notebook and pen and started doodling in my notebook. I felt
a nudge at my forearm. It was a folded piece of paper. I discreetly opened it and it said:
Good morning beautiful. –D
I wrote back:
Good morning darling. –E
I passed him the note and he quickly replied.
How did you sleep?
It took me a while, but I feel asleep eventually.
I couldn't fall asleep because of that scene of me finding you with the vampire was running
on repeat.
I am so sorry for going off with out telling you or Sammy, but I needed to figure out what was up
with him.
I understand. I would've done the same thing. As long you are okay, that is all that
matters.
Thank you for understanding. At least the creep is locked up.
Our note passing conversation ended there since our teacher was staring at us. I stuffed the
note in my purse and looked at the teacher. Class ended and we made our way to our other class.
---
The day finally ended and Demitri went up to the common room before me to get ready for the
house talent show. When I got up to the common room, it was already full of people changed and
sitting on the floor or couches. A stage was set up in front of the huge bay windows, taking
up a good chunk of the common room. I hurried upstairs to change into spandex shorts, sports bra,
and Salem School poms tank top. I slipped on my black jazz shoes and threw on a gray cardigan.
I went back downstairs and sat on the floor next to Sammy. I gave her a small smile and she
smiled back. "Do you know where Demitri is?" I asked her.
"I have no idea." Sammy said. "Are you and the poms girls in Archer doing a routine?"
"Yeah we are. I am kind of nervous since we only have performed as a whole team for football
games and tonight it is just a few of us dancing." I said and stretched out my legs by sitting
in a pike. The show was going to start in a few minutes and Demitri was MIA. Christina, the
captain of poms, motioned for me to come over to her. I stood up and hurried over.
"You ready to go? We are first now since someone else requested to go last." Christina said
and put her hands on her hips.
"What? We are going first?" I asked. Christina nodded. I sighed, flipped my head upside down,
and gathered my hair into a high ponytail. The poms girls also in Archer and I started stretching
in a corner. I saw Demitri standing next to Michael. He smiled and winked at me. I smiled back
and continued to stretch. Then the MC's for the show came up on the stage. The poms girls and
I made our way over to stage left of the stage area. The MC's introduced us and then our mix of
music started playing. It was a mix of Adam Lambert songs. We strutted our way onto the stage
to the song of Strut and then we got into formation and started our dance. I had several solos
and by the end of the dance, everyone was cheering and on their feet. We bowed and walked off
stage. We sat all together on the floor for the rest of the show. By the time the end rolled
around, Demitri got up on stage with an acoustic guitar. My friends on poms looked at me with
their eyes asking "what is he up to?" I shrugged.
Demitri said into the microphone, "I dedicate this song to my amazing girlfriend, Emerald."
I blushed. He started playing the beginning of Bruno Mar's hit song "Just the Way You Are."
He started singing. I died at the sound of his smooth and silky voice. A good majority of the
Archer girls fell in love. When he ended the song, I made my way up to the stage and hugged
him. A lot of people awed out loud.
I whispered into Demitri's ear, "I love you so much."
He whispered back, "I love you so much too." A good chunk of my peers told Demitri he did
amazing in their fliriest voices. I really didn't care if they wanted him because they knew he
was all mine. Everyone stood in clusters, talking and listening to the music blaring over the
speakers. I was still in my poms outfit and I saw boys staring at my assets. Demitri and I met
up with Sammy and Michael, whom were standing with a group of the football players. They football
players told us both good job and I smiled back at them. We had our homecoming football game
that following Friday, where the whole poms team is going to do our homecoming routine during
half time. Demitri still hasn't asked me yet, but a lot of girls have already been asked,
including Sammy. Michael asked Sammy by leaving a cookie cake and a single rose with the
homecoming couple ticket on top. It was a cute idea but I did wonder what Demitri had in store
for me. We said goodnight to each other at the top of the staircase. I went into my room,
changed into pajamas, and sat on my bed. Since spirit week started today, hence the talent
show, tomorrow was pajama day. I was going to wear cheetah print footie pajamas. I was so
excited. A lot of the girls were probably going to wear some skimpy and skanky pajamas since
we usually wear uniforms. But I, on the other hand, want to be comfy. Before I knew it, I was
dead asleep.
---
I slipped on my footie pajamas the next morning and threw my hair into a messy bun on the top of
my head. I grabbed my bag and headed downstairs to meet up with Demitri, Sammy, and Michael for
breakfast. When I got downstairs, people liked my pajamas. "You look beautiful, love." Demitri
said when I reached him and the others. Sammy and Michael also liked my pajamas. We headed
downstairs for breakfast and my guess about the girls in the skanky pajamas was 100% right. The
girls tried strutting there stuff in front of Demitri, but he couldn't take his eyes off me.
We made it to breakfast and sat down after getting our food. I was getting many compliments on
my footie pajamas. I could tell that some people were shocked that the princess was wearing
footie pajamas from Target in public. Our classes were shortened because we had an assembly at
2:30.
Class flew by and then we were at the Homecoming kick-off assembly. The whole poms team was
going to perform our Homecoming hip-hop routine. We went into the girls' sports locker room to
change into black spandex shorts, gold spandex long sleeved tops with Salem inscribed across
the chest in black stitching, and black and gold Nike high tops, which were the school universal
colors. I had to say, we looked fierce. We put long jackets over our outfits so we didn't
distract anyone just yet.
The football players were all in their respective jerseys and a lot of people were in school
colors. We sat in the special section of the bleachers with the JV poms team and the JV and
Varsity football players. The nominees for homecoming King and Queen, which were going to be
a surprise, were going to be announced today. Headmistress Jenkins welcomed us to the assembly
and started it off with the nominees. One by one, the nominees were called up to the stage. To
my surprise, I was nominated. I got up, still in my jacket, and walked onto the stage. I was
handed a bouquet of roses and a sash. Then Demitri was also nominated. We were both in shock
because only 7th and 8th years get nominated. Also, Damon was nominated. He smirked at me when
he walked past me. It was the first time I saw him in school.
After the nominations were called up, I had to get off the stage to perform. I joined the rest
of the dance team at the side of the basketball court and got into formation. We walked in sync
to the center of the basketball court and waited for the our music to start. Right on cue, we
ripped off our jackets in a staggering effect. We tossed them to the side and started the
dance. The crowd loved it. They were dancing and fist pumping in the bleachers. Our performance
was a bit racy, but what the hell. We whipped our hair back and forth, put our hands up if we
have ever been in love, and shook what our mommas gave us. At the end of the dance, we stuck
our poses and held it for a few seconds. We eased and while everyone else walked to the bleachers,
I had to go back onstage. Then I saw Damon take the microphone.
"Excuse me everyone," Damon said into the microphone in his cocky voice. I looked at Demitri
with alarmed eyes. Then Damon spoke again, "I have an announcement to make." He started, then
looked at me, and smirked. "Emerald, will you go to homecoming with me?" My jaw dropped and
I looked at Demitri. He was fuming. The gym was silent. I was speechless and annoyed. "Well,
Emerald, will you go with me because I know you do not have a date yet." Damon said into the
microphone. Demitri stormed off the stage and up to his brother.
"What the hell are you doing?" Demitri yelled at Damon.
"Well unlike you, I have the balls to ask a girl to Homecoming." Damon smirked at Demitri and
then at me.
"She is my girlfriend, and I planned on asking her tonight, but you ruined that. Thanks. That
adds another item to the list of why I can not stand you because you ruin everything." Demitri
shouted. All the kids and teachers were in shock of what was going on.
"Then why don't we duel who gets to take her to homecoming?" Damon asked and whipped out his
wand. Demitri took out his. This has gone too far. I ran off the stage and ran into the middle
of them just as one of the spells hit me. I fell the ground and submerged into unconsciousness.
---
Last edited by kelseyyyy! on Sat Dec 04, 2010 8:03 pm; edited 14 times in total